UMI 78-88 GM G-Body, 82-03 S10/S15 Competition Front End Kit, 650lb Springs, Street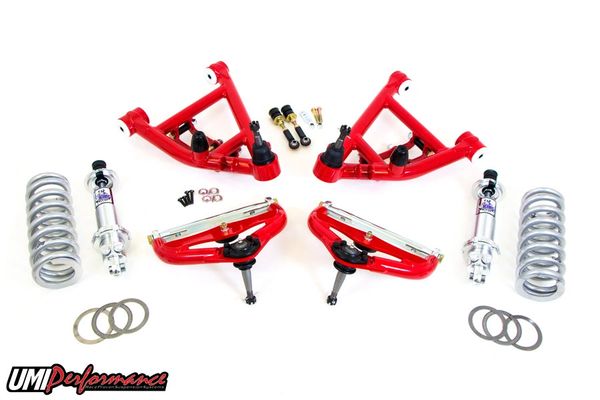 UMI 78-88 GM G-Body, 82-03 S10/S15 Competition Front End Kit, 650lb Springs, Street
Application:
1978 - 1988 Chevrolet Monte Carlo, Malibu, El Camino
1978 - 1988 Buick Regal, Grand National
1978 - 1988 Pontiac Grand Prix, LeMans
1978 - 1988 Oldsmobile Cutlass
1982-2003 Chevrolet S-10 (2WD)
1982-2003 GMC S-15 (2WD)
Tremendous front grip and a host of features can be yours with UMI's complete front end Grip Kit. The included a-arm kit enables 10 degrees caster while maintaining standard track width and wheelbase. Lower a-arms are assembled with tall lower ball joints to optimize roll center, camber gain, center of gravity and lowers ride height by an additional ½". Lower a-arms feature Delrin bushings for smooth travel and bind free performance. The new lower a-arm works in conjunction with the included adjustable upper arm which features minimum shim adjustability, 1" taller-than-stock ball joints and super smooth Teflon lined rod ends. The front sway bar attaches using UMI's swivel style end link design and double shear mounting system. The included Viking Crusader coilover shocks mount to the lower a-arm in double shear quick change brackets. The lower shock mount is removable to allow spring and shock changes at the track. UMI's kit features Viking Crusader shocks with AT pro-touring valving (high rebound tie down for road race and auto-x) and a true 2-1/2" racing coilover. The upper stud mount fits in factory location while the lower is optimized to fit UMI's new and included 3057-1 competition lower a-arm. Some grinding is required for installation in the upper frame spring bucket. This kit is intended for use on competition vehicles and develops a ton of grip. Other spring rates and valve codes are available. Battle tested on the iconic UMI Green Machine. Kit is available in UMI red or black powder coat. 100% designed, manufactured and raced with pride in the USA.
Performance note: UMI recommends adding the P/N 3060 bump steer kit for optimal performance.
Features:
Total of 10 degrees caster potential while maintaining spindle pin location.
Adds 1-1/2" of height to factory spindles.
Upper ball joint moved rearward to add 5-6 degrees caster potential.
Lower ball joint relocated forward to increase caster 4-5 degrees which improves steering feel and straight line stability.
Viking double adjustable Crusader coilover shocks with pro-touring valving.
Ride height adjustment using coilover shocks.
Rod ends feature superior friction reduction for quick response
Adjustable upper a-arm uses rod ends for easy alignment.
UMI built Delrin bushings improve steering response and reduce deflection.
Taller upper ball joints to improve camber gain, optimize roll center and improve traction during cornering.
Upper and lower a-arms built from USA Made DOM steel tubing.
Removable double shear mount to allow spring/shock replacement without removing spindle.
Mount spacing suitable for Afco, Viking, Ridetech and many other aftermarket manufacturers shock/spring combos.
Adjustable steering stop.
Double shear swivel sway bar mounts and hardware work with UMI P/N 3035 and most other factory eyelet style sway bars.
Kit Includes:
P/N 3057-1 Coilover lower a-arms, ½" taller ball joints, Delrin, quick change shock
P/N 3056-3- adjustable upper a-arms, 1" taller ball joints, rod ends.
(2) Viking Crusader double adjustable shocks, AT pro-touring valving.
(2) Front springs, 650lb rate for race use and good street manners.
Thrust bearing kit for easy height adjustments.
Reviews