67 Camaro Performance Rear leaf kit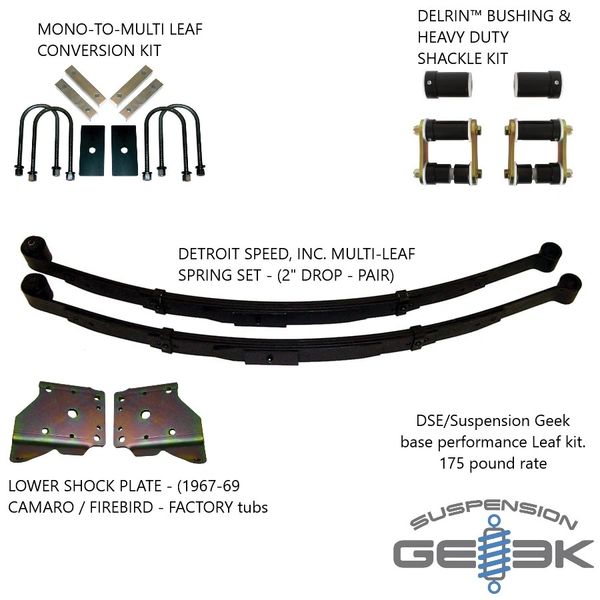 67 Camaro Performance Rear leaf kit
A base Leaf spring performance kit 
Rear DSE Leaf
The difference between our leaf springs and others is that our leaf springs not only give you the handling you are looking for, but do not sacrifice ride quality. The springs have a tapered leaf with an anti-friction pad between each leaf to help provide a smooth ride.

Spring Rate: 175lbs/in
Spring Free Length: 5in Arc Height
Total Spring Height*: 6-1/4"
Performance shackle kit
Our Delrin™ Leaf Spring Bushing Kits provide the ultimate handling performance for leaf spring applications by reducing bushing compliance. The bushings also offset the leaf springs inboard to gain more wheel and tire clearance over stock bushings. The kit includes front and rear Delrin leaf spring bushings along with heavy duty zinc plated rear leaf spring shackles and hardware. You can also purchase the entire bushing and shackle kit, the rear bushings, or the front bushings.
Mono to Multi Leaf conversion mount kit
Use this kit to convert you original mono-leaf car to a multi-leaf configuration. Comes with everything you need to correctly convert your mono-leaf rear axle including: U-bolts, a hardcoated steel locating pad, aluminum spacers, washers, and nuts.

NOTE: This kit is designed for use with a 3" diameter axle tube. This kit was also designed using the Detroit Speed drop leaf springs which have a thickness of 1-11/16" at the spring perch
Lower shock plates
Electroplated stock lower shock plates are designed to work on a stock rear suspension vehicle that has not been mini-tubbed. These plates are stronger than stock and use the stock U-bolts and the stock shock mount positions.

The shock plates are stronger than stock and use 7/16" U-bolts and a 7/16" bolt for the lower shock mount. They come in an electroplate finish and are available for either staggered inboard, staggered outboard, or shocks on the same side of the rear axle.
DUE TO THE HEAVY WEIGHT AND LENGTH OF THE LEAF SPRINGS THESE ARE OVERSIZED UPS/FEDEX SHIPMENTS






Reviews