No-Limit 63-72 C-10 Trailing Arm System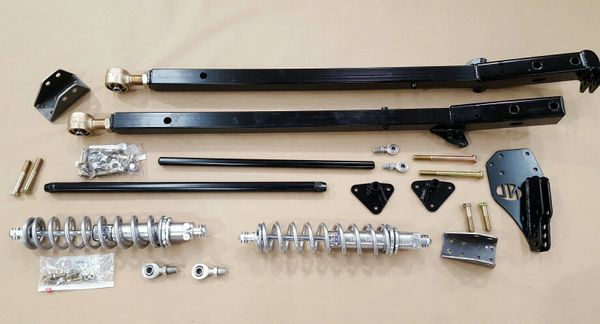 No-Limit 63-72 C-10 Trailing Arm System
To deliver the best ride, and un-believable handling, you have to go against the grain of 'short travel' cookie cutter suspension kits. We knew from the experience gained from our FatBar 4-bar systems that C10's need long travel, low roll centers, soft springs and firm rebound shocks to stay hooked up. But, getting that into a trailing arm is tough. So, we took a look at Chevy's Truck-Arm suspension from a slightly different angle. The result is a new adjustable trailing arm system that delivers everything you demand, and, it's 100% bolt-on!

To get the long travel and reduced spring rates and compression valving, we placed the coil-over shock in front of the axle, leveraging the shock and spring. Next, we fitted in a 7" stroke shock with a 14" 220 lb spring, for 10" of total travel. But we wanted MORE. So we designed a new front trailing arm mount that replaces the original, and raises the Anti-Squat percentage. These new front mounts are made to fit our No Limit exclusive Monster Balls. (Delron lined spherical pivot adjusters) Making the trailing arm length adjustable allows the installer to perfectly square the axle to the chassis center line. Next was the desire for a low, we mean really LOW, adjustable roll center, so the truck can be tuned to turn evenly left or right. The low roll center adds side bite to the tires, and helps to eliminate the over-steer common to all trucks.
Next on the list was to make it easy to install. By re-using factory rivet holes and OE chassis holes, there is almost no need for a tape measure during the install. – You still have to square the axle after all. And, there is no welding or grinding on the factory rear axle (or aftermarket C10 axle, such as a Currie or Moser 9" or 12 bolt)
*** This will clear up to a 345 tire on a 12" wide wheel
*** This system will drop the truck approximately 5" (+/- ½" adjustment)
*** For additional drop, you may add a 1" or 2" block. (not included)
*** When using blocks for additional drop, we suggest a bolt in C-Notch should be installed for additional axle clearance (not included)
*** This system is designed for Coil-Over shocks or ShockWaves. 'Bag and shock' components will not fit correctly to this suspension system
The complete kit includes:
1 – Pair of new adjustable trailing arms. 1 L.H., 1 R.H.
2 – No Limit Monster Ball adjusters
2 – Front trailing arm mount brackets
1 – Pair of upper coil-over shock mounts. 1 L.H., 1 R.H.
1 – Chassis mount for the Panhard rod.
1 – Chassis mount brace tube with rod ends for the Panhard rod mount
1 – Panhard rod with Chromoly L.H. and R.H. lined rod ends.
1 – Complete hardware kit with full instructions.
1 – Pair of Viking double adjustable billit coil-over shocks.
1 – Pair of 14" 220 lb springs
All parts are powder coated in No Limit 'Magic Black'. 
this does ship OVERSIZED so cost to ship runs about 65 dollars to most regions some are higher