3 Gallon AirPod with RidePro-X Control System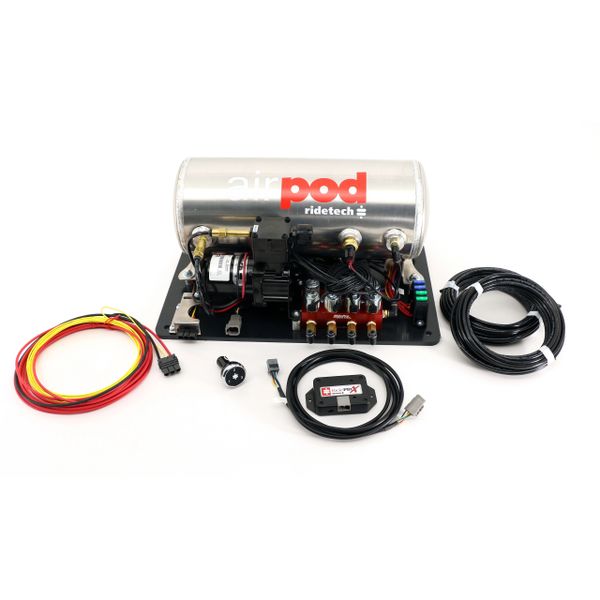 3 Gallon AirPod with RidePro-X Control System
DESCRIPTION
3 Gallon AirPod with RidePro X Control System. Includes RidePro-X Control System, aluminum 3 gallon tank, RidePro valves, 1/4" airlines and fittings. The AirPod offers a completely integrated air compressor system that eliminates hours of installation time!
RidePRO-X — NEW Digital Air Suspension Control System 
The Most Advanced Air Suspension Leveling System in the World
 Sophisticated pressure and height algorithms tune air spring rates for proper handling and world-class ride quality. A sleek and stealthy 3-position Control Module plugs into your car or truck's 12V power port (cigarette lighter) and talks to the ECM via RF. Choose 
pressure-only (RidePRO-X) or pressure and height (RidePRO-HP) for the ultimate electronic air management system.
FEATURES
- Stealthy 3-position Control Module communicates via RF.
- "Ride Height On Start" automatic lift and level feature.
- Pressure-based crossload compensation — critical for dynamic driving scenarios such as cornering and panic stops.
- Display and setup via smartphone "App", laptop or optional dedicated bluetooth Display/Tuner.
- Weatherproof ECM and heavy duty mil-spec connectors.
- All new LevelPRO height measuring sensors.
- Automatic weight compensation.
- RidePRO-X (pressure-based) system is upgradable to RidePRO-HP (pressure and height) system.
- Bluetooth connectivity and smartphone app are included
Reviews