1993-2002 GM F-Body Complete Coilover Kit, Single Adj., Monotube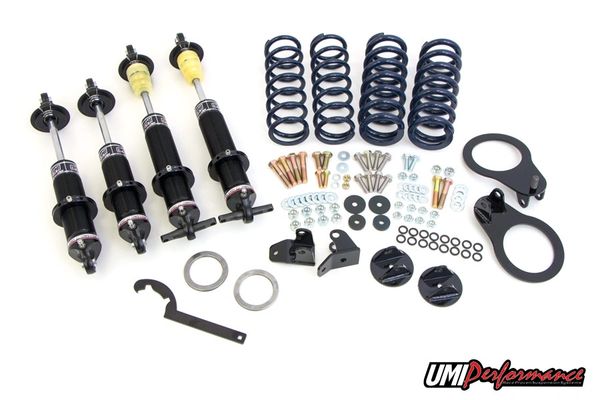 1993-2002 GM F-Body Complete Coilover Kit, Single Adj., Monotube
UMI's 4th Gen F-body competition coilover package is built to perform. Developed in conjunction with Sam Strano (14x national SCCA auto-x champion), the Afco built monotube dampers provide race winning performance in auto-x and road race while still providing an awesome street ride. The package includes rebound adjustable dampers with a properly tuned fixed compression valve code. The 40-position digressive rebound curve is designed for competition body and weight transfer control. Spring rates are 600 lb/in front and 200 lb/in rear Hypercoils. These rates and damping curves in conjunction with available 35mm/22mm sway bars encourage race winning performance. UMI's aluminum body shocks and coilover brackets are race-proven for three seasons now under punishing conditions. Ride height adjustment range is stock to 2-1/2" lowering. Every part of this competition proven package is 100% Made In USA.
UMI's complete system includes: 4 coilover shocks, 4 springs with proper spring rate, fabricated bolt in mounting brackets and hardware, thrust bearings for each shock and a spanner wrench for height adjustments.
UMI/Strano specific competition valving.

Road race, auto-x and street corner carver tested.

UMI bolt in double shear brackets on all four corners – competition proven.

Front upper fabricated shock mount removes rust-prone GM rubber shock mount.

Front shocks assembled with progressive rate bump stops.

Double bearing shocks for crisp response, zero deflection and high reliability.

Afco aluminum body shocks built in Indiana USA.

Rebound adjustable (digressive) monotube with Strano tuned valving.

125 psi monotube provides quick reaction and fade-free performance.

Medium-firm fixed compression.

Competition ready yet still street/corner carver worthy.

600 lb/in front and 200 lb/in rear Hypercoils standard. Built in Indiana USA.

Balanced for use with UMI or Strano 35mm/22mm sway bars.

Ride height from stock to 2-1/2" lowering.
Reviews