1982-1992 GM F-Body Tunnel Mounted Torque Arm- Fits 700R4 & T5 Transmissions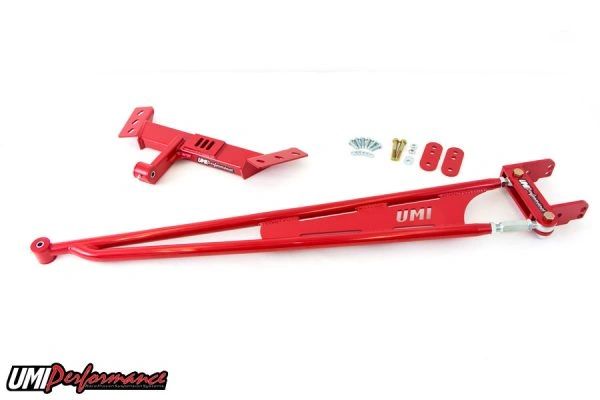 1982-1992 GM F-Body Tunnel Mounted Torque Arm- Fits 700R4 & T5 Transmissions
1982-1992 GM F-Body Tunnel Mounted Torque Arm- Fits 700R4 & T5 Transmissions
This tunnel mounted torque arm is designed to work with factory 700R4 automatic transmission and manual T5 5-speed transmission. This item is supplied with a new transmission crossmember with provisions to work with both the 700R4 and T5 transmission. Set-up requires no modifications and is a 100% bolt in design.
This torque arm set-up is designed to remove the front mounting point of the torque arm off the transmission, protecting the tail shaft from damage. This torque arm is supplied with pivot brackets that allow (2) settings to allow easy instant center adjustments. By simply moving the torque arm into the next location you can automatically change the instant center point of the vehicle. This is very crucial on low to mid horse-power cars and can easily lower 60-foot times. This set-up bolts to existing floor pan holes using 0.188″ thick mild steel CNC machined mounting plates and metric grade 10.9 hardware. The complete cross brace is constructed of 0.120″ thick rectangular tubing and attaches to the torque arm using 0.250″ thick mild steel mounting pivot plates with Grade 8 hardware. The torque arm is attached to the supplied cross brace using an Energy Suspension polyurethane bushing set-up on both the supplied cross brace and torque arm. Polyurethane was chosen as a mounting point to keep road noise at a minimum and eliminate unwanted "clunks" found with other set-ups available. The grease-able polyurethane bushings absorb road irregularities and protect noise from entering the passenger compartment. The rear mounting points feature 0.375″ thick CNC machined mounting plates and are appropriately drilled to fit your stock rear as well as aftermarket 12-Bolt and 9″ Rear-end housings. This set-up requires no welding or drilling and can be installed with basic hand tools; this is a complete bolt-in design!
Torque Arm Benefits:
Removes torque arm from transmission tail shaft protecting transmission from damage
Eliminates wheel hop and solves traction problems
Reduces front end nose dive during braking
Allows for on-car pinion angle adjustments
Polyurethane bushings designed to keep road noise at a minimum
Front mounting point utilizes a grease-able pivot point with instant center adjustment
Bolt-on design requires no welding or drilling!
Build Features:
Constructed of 1.250″ x 0.120″ DOM seamless steel tubing
Front cross member uses 0.120″ x 3.000″ rectangular tubing
TIG welded 4140 chrome moly tube adaptors
On-car adjuster built using 4140 chrome moly steel and heat treated for maximum strength
Front pivot mount is supplied with grade 8 mounting hardware and locking nuts
All polyurethane bushings are grease-able to prolong bushing life
All mounting plates are CNC machined to insure hole to hole accuracy
Rear mounting plates use 0.375″ thick mild steel and are designed to fit stock as well as 12- bolt and 9″ rear-end housings
Rear mounts feature solid ¾" rod eyes and are attached using grade 8 hardware
Brilliant durable powder coat finish
Reviews