1978-1988 GM G-Body Shock/Spring Lowering Kit, Double Adj. Shocks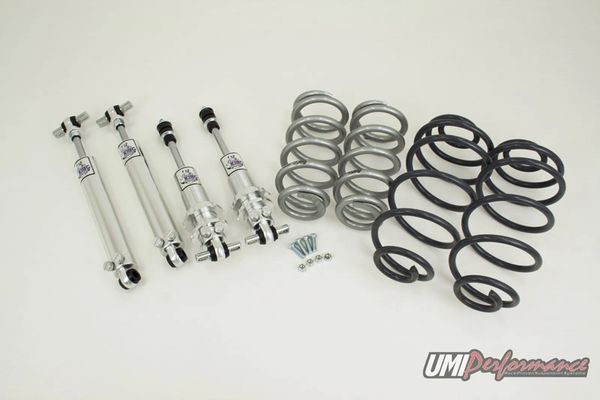 1978-1988 GM G-Body Shock/Spring Lowering Kit, Double Adj. Shocks
DESCRIPTION
UMI's lowering package consists of four Viking double adjustable shocks, a hybrid front coil over spring system and either 1 or 2 inch lowering Hotchkis rear springs. With moderately increased spring rates for improved handling, this kit allows you to adjust your cars altitude and attitude for maximum performance and a cool appearance. The hybrid front coil system features 0-3″ front drop and is easy to adjust and lock in place. The 1 or 2 inch rear lowering allows you to knock the factory height down a bit or go the extra inch for the Pro-Tour look. Double adjustable Viking shocks feature 19 compression and 19 rebound settings. These independently adjustable settings allow you to change from street to strip to corner carving handling simply by turning the knobs. No tools required.
0-3″ lowering range up front, 1 or 2 inch choice for the rear
Lower ride height improves handling by lowering center of gravity
Lower ride height improves handling by placing the upper a-arm in a more favorable angle
Viking features Premium quality Made In USA springs, shot peened and coated for durability
Easy front height adjustment with optional Torrington bearings and wrench
Shocks hand built in Lakeville, Minnesota
Double adjustable features 19 independent compression and rebound settings (for a total of 361 possible combinations)
Tune for street, strip or corner carving at the turn of a knob – no tools required
Baseline shock settings – 6C,8R all around street, 10C,12R all around corner carving, 6C,2R front and 6C,6R rear strip
Bolt in kit, no welding required. And best of all, no spring compressor required up front
Kit Includes:
(2) Front coil over shocks, double adjustable
(2) Rear shocks, double adjustable
(2) Front springs with choice of 250, 350, 450 or 550 spring rate
(2) Rear springs with choice of 1″ or 2″ rear drop
Spanner Wrench & Thrust Bearing Kit: Spanner wrench tool is used to adjust vehicle height while shock stays mounted. This wrench is needed to make height adjustments. The thrust bearing kit is designed to be placed between the spring and the spring seat attached to the shock. This makes for easier adjustments since the spring seat is rotating on a bearing. This kit is recommended for easier adjustments but is not needed to complete the installation. We do not recommend adjusting without a thrust bearing kit.
Front Spring Rate Options:
250lb- 11″ tall springs for drag race only. Serious lightening required.
350lb- Small block cruise or drag race with lightening required.
450lb- Small block cruise, big block drag race.
550lb- Small block handling, all big blocks except drag.
Reviews