Ridetech 1967-1967 1st Gen Camaro Instinct shock System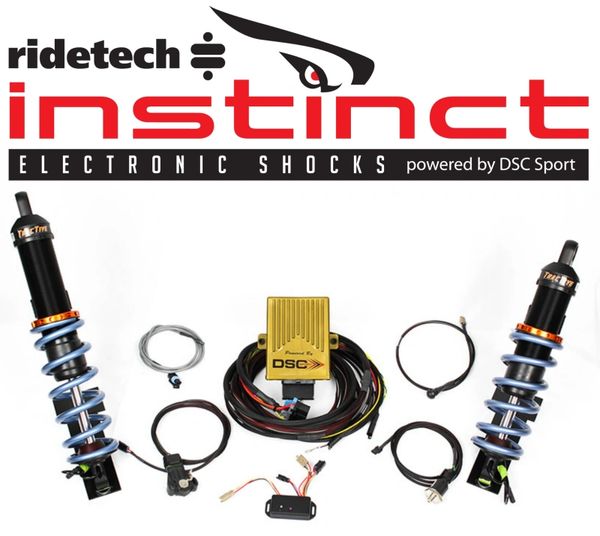 Ridetech 1967-1967 1st Gen Camaro Instinct shock System
Instinct electronic shock system – includes 4 shocks w/ remote reservoirs, springs, spring mounts, ECU, software, wiring harness, and sensors

The new RideTech Instinct System:
Knows when you hit a bump…
Knows when you are turning…
Knows when you are braking…
Knows when you are accelerating…
Knows when you are cruising…
Knows when you are racing…
How?
The Instinct sensor package includes a brake pressure sensor, a throttle position sensor, a speed sensor, and an internal 3-way G-force sensor that reads pitch, roll, and heave. These inputs are delivered to the Instinct ECU to help it instinctively make changes to the shock dampening forces in a 6 millisecond window.
Think of tuning your shocks in a 3 dimensional world…similar to tuning EFI. Instead of relying on only the static valving inside the shock, you can now influence the dampening forces as a function of 7 unique sensor areas. This is technology that is currently is used by high level racing teams and OEM manufacturers around the world.
Why?
Traditional shock absorbers [passive dampers is the technical term] have gotten quite good at REACTING to road and track irregularities. The Instinct System now allows ANTICIPATION of these irregularities AND the ability to change the shock damping forces to minimize them. The end result is not only optimized handling qualities across a wide range of track conditions, but an immensely improved ride quality as well!



Instinct Shock dimensions
Because of the internal configuration of the Instinct electronic shocks, they do not follow our normal dimensioning format. The Instinct shocks will be approx.. 1" longer in compressed, ride, and extended height than our HQ and TQ Series shocks. Be aware that you may need to fabricate new shocks mounts for your particular application.
Stroke
Compressed height
Ride height
Extended height
Body length
3"

[3.071"]

11.259"
13.250"
14.330"
8.858
2.283" extended upper eye to accommodate DSE frontend
4"
11.118"
13.625"
15.118"
9.645"
1.496" standard height upper eye
5"
12.126
15.625"
17.126"
10.629"
1.496" standard height upper eye
Reviews