10.50" Classic Series Rear (Non-staggered Shock) Brake System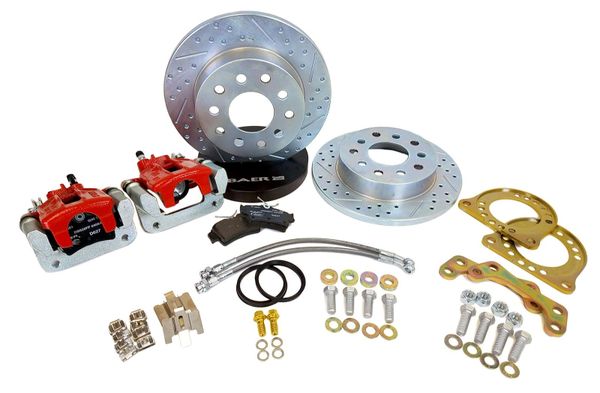 10.50" Classic Series Rear (Non-staggered Shock) Brake System
10.50" Classic Series Rear (Non-staggered Shock) Brake System
This system features a single piston, integral park brake caliper mounted to a 10.50", 1-piece slot, dimpled and zinc plated rotor. The caliper comes with a red powder coated finish, includes dust/weather seal and uses the popular D627 pad type. The system includes calipers, rotors, brackets, hardware, stainless braided brake hoses and fittings. The Baer Classic system is a cost effective, full feature drum to disc conversions and fits most 14" or larger wheels.
Calipers, Brake pads, Rotors, Brackets, s
tainless braided brake hoses & system hardware. 
Park brake cables not included but are available separately for certain applications
- Designed to be used with GM small 10/12 bolt rear ends with C-clips, C-clip eliminators or bearing on axle (BOP).
- For vehicles with 
NON-Staggered
 rear shocks.
- System has 5x4.5" and 5x4.75" bolt pattern
- 15/16" master cylinder recommended 
- Adjustable proportioning valve recommended 
- 
1978-88 GM G-Body cars will need shock relocation brackets, available below
- 1964-72 GM A-Body card with OE 
10/12 bolt rear end 
& 
Non-staggered
 shocks
- 1967 GM F-Body card with OE 
10/12 bolt rear end
& 
Non-staggered
 shocks
- 1978-88 GM G-Body cars with Saginaw 10 bolt 
C-clip rear end and OE drum brakes (

Requires shock relocation bracket kit, sold separately

)
- Vehicles using GM small 
10/12 bolt rear end
& 
Non-staggered
 shocks
Reviews